His Grace Churches International

Five-Fold of Ministry
(With the anointing of the Holy Spirit)
We Praise God. He has gifted our Church Pastors with the five-fold of ministry. "And God has appointed these in the church: first apostles, second prophets, third teachers, after that miracles, then gifts of healings, helps, administrations, varieties of tongues" 1 Corinthians 12:28.
There are hundreds of testimonies in our church congregations. God is healing people and giving blessings to people through His Grace Churches International. God is using His Servants including Bishop Yousaf Nadeem Bhinder with signs and wonders throughout the World. Daily he and pastoral team are receiving phone calls to pray for sick and unhappy people. God is listening their cry and people are getting healing and blessings.
There are hundreds of testimonies in our church congregations. God is using his servants including Bishop Yousaf Nadeem Bhinder and his whole team for the glory of His Kingdom.
Kidney stones disappeared by prayers
A man from Pakistan who couldn't able to walk because of bad stroke. After telephonic prayer God healed him.
God healed our Christian sister who was suffering in mouth rash. There were red spots outside and inside her mouth. She was suffering for years. She came to our prayer meeting and God healed her immediately.
After 13 years of illness one of our sister got healed from crohn's lymphocytic colitis now she can eat food Glory and honour to God.
God protected a mother and her baby in her womb, doctors said the baby in her womb is not getting proper growth and they suggested an operation but she telephoned the team to pray. The team cried to Abba Father and He healed her daughter and her baby. She gave birth without operation. Praise God.
God healed a little girl while she was at hospital on ventilator.
Glory and honour to God who healed a girl from dengue fever.
God also healed a man from Thailand who was also suffering in dengue fever.
A praising report from Canada a family had demonic problems and what they found was that, their cloths were burnt on daily basis and they had to go to their neighbour house to change their daily use clothes. Through telephonic prayer God put joy among them and devil run away from that family.
God healed two people from gangrene.
God granted visa to families to go abroad.
God saved a woman from major heart operation.
God healed a blind girl. She was born blind in a non-Christian family. Her family was told about our healing prayer meeting. They brought her to our prayer meeting and her eyes were restored.
Christian teenager was in a comma for 6 months. The family called Bishop Yousaf Nadeem Bhinder and God raised the boy from comma.
God is using our team for His Glory. God is using Bishop Yousaf Nadeem Bhinder and Mrs. Bishop in healing ministry. By their prayers God had mercy on barren wombs.
It seems that the Bishop is blessed by the Holy Spirit
from his childhood.
Bishop's Testimony according to his words
"I still remember a big miracle story of my childhood days, when I was a student of year 6 (Class 6th). It was in 1980's, when I was coming back from Government High School Talwandi Musa Khan District Gujranwala. In those days, we were going to the school by walk. One day (as routine) after school I was going home with my Muslim and Christian friends, a Christian woman who was our neighbour (we called her big Appa) and she had a goat, her goat gave birth to two kids but goat's milk was infected and there was blood coming from goat's udder. Someone told her to approach to a muslim pir (spritual guide) but she refused to go to that pir for prayer and said "my Christian young brother, he is coming back from his school, I will ask him to pray instead". As we reached our village from school, she was waiting for me to pray for her goat. She said to me "before you go to your house, let come to my house and pray for my goat". I went with my Christian friends and I told my friends to hold goat's horn and legs then I prayed for the goat and Thanks and Glory to God. Immediately the blood was stop and white milk started to come and the kids started drinking the milk. Our Christian people used to invite me for prayers.
Now I recongnised there is God' plan for me to do His Kingdom work with sign and wonders. Thanks God there are hundreds of miracle testimonies"
God bless you all.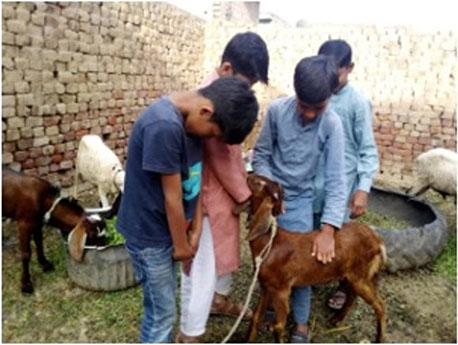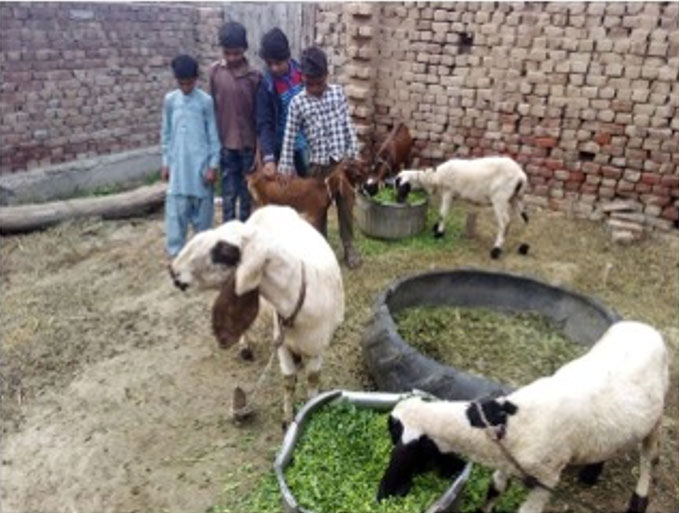 Glory to God another great Testimony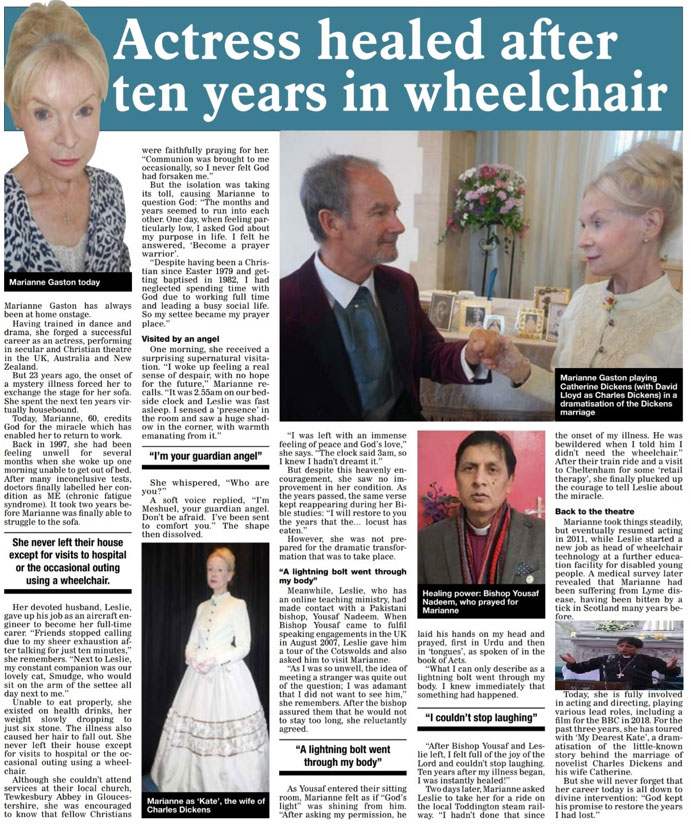 Pastor's coordination meeting at His Grace Churches International at Karachi City Sindh Pakistan.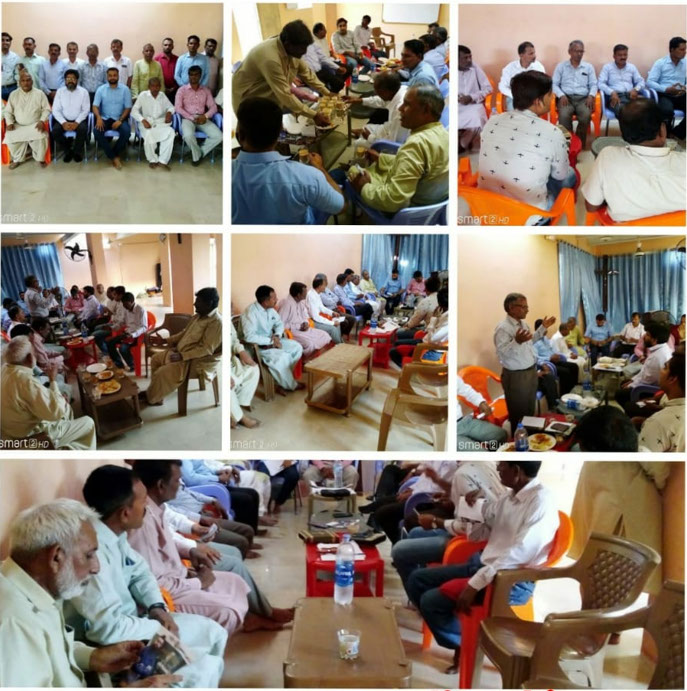 His Grace Churches International Pastors including Rev. Waris and Rev. Kamran were invited on Christian talk show of Isaac TV International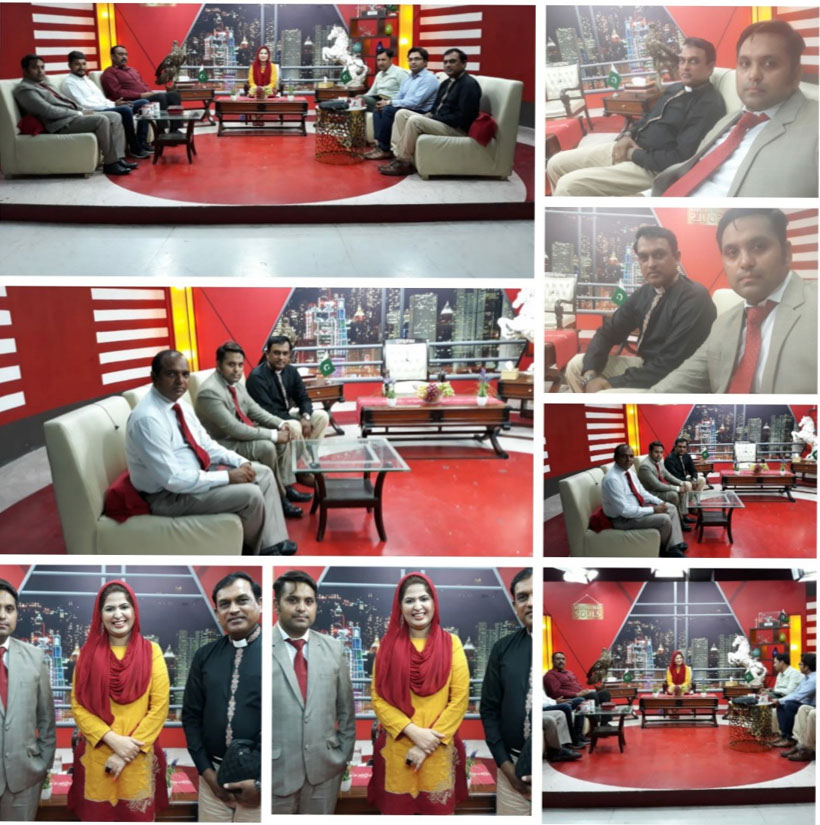 Books written and translated by Rt. Revd. Dr. Bishop Yousaf Nadeem Bhinder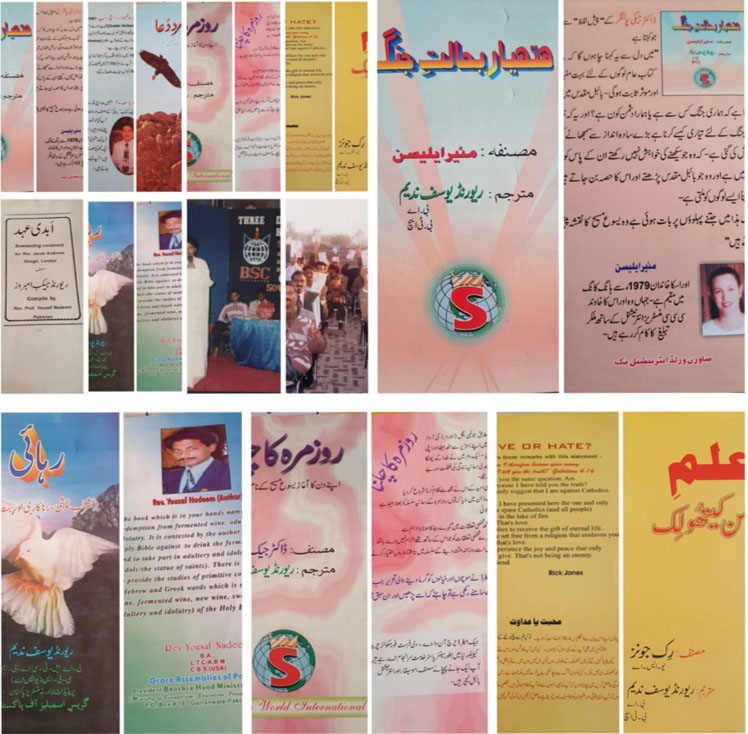 This couple had no children. They invited Bishop Yousaf Nadeem Bhinder at their house in 2005. They asked him to pray for them. Bishop prayed to Almighty God and in Jesus' Name God blessed them twin children (Boy and Girl). Glory to Jesus' name.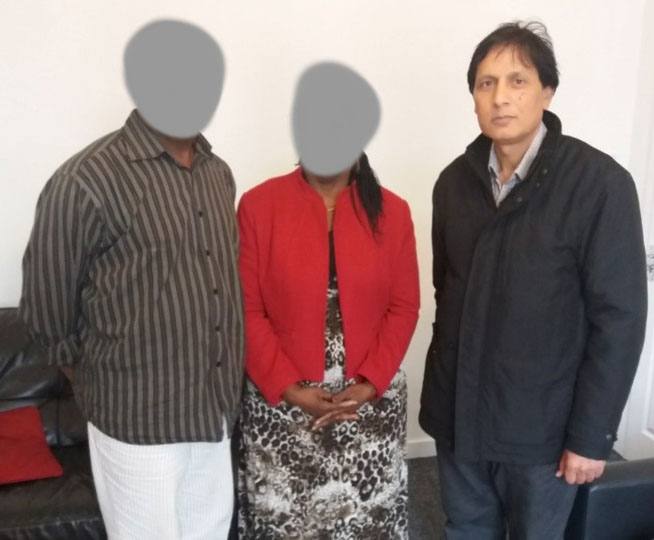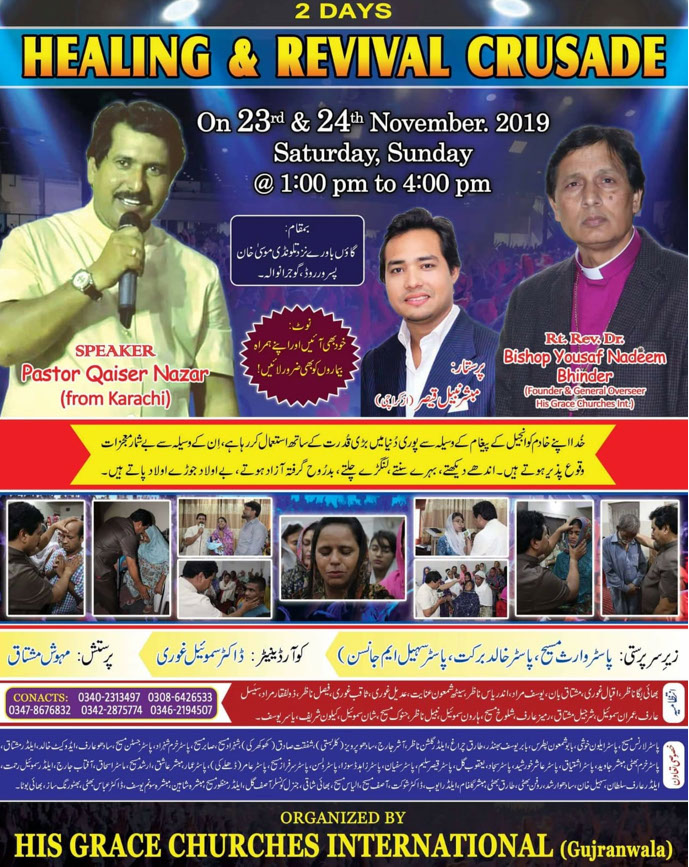 This sister had a stroke and suffered it for 2 years she couldn't able to walk. Someone brought her to church. Pastor Qaiser and his team prayed on her and God healed her from her disease.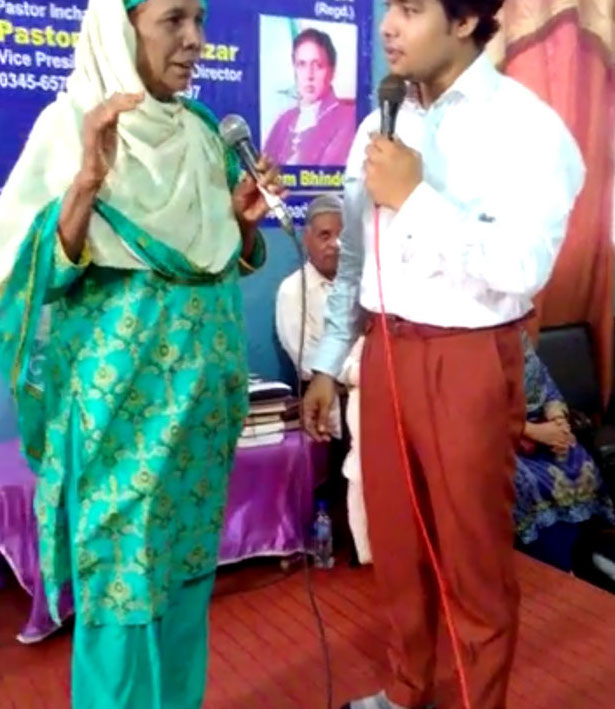 Four days convention and prayer Crusade arranged by Rt. Rev. Dr. D. M. Rt. Revd. Dr. Bishop Yousaf Nadeem Bhinder was invited as a guest speaker there at Papua New Guinea.